Mitigation Measures
This article reports that the The College of Physicians and Surgeons of B.C. has disciplined a doctor for spreading disinfo and veterinary-grade ivermectin.
Press Briefing
The video is here.
Dr.H said:
Canada expects to get Novavax within a week to ten days. She pointed out that there were zero fetal cells used in the development or manufacture of the vaccine (they used moth cells instead), so if you had a religious objection to other vaccines (which btw don't contain fetal cells, but which used some cells from a line which originated with cells from aborted fetuses in the research leading up to them), then you can get these ultra-non-abortion-related vax. Call 1-833-838-2323 now and ask to reserve your dose!

(Cynic me thinks there are probably only about three people who genuinely think fetal cells in the development of vaccines is a problem — even the Pope says you should get vaccinated! I suspect that really it's people who don't want to get a shot for Fox News reasons and just seized upon fetal cells as a justification for not getting a shot. We'll see.)

Because supplies of monoclonal antibodies and Paxlovid are in short supply, and because Paxlovid has a lot of unpleasant drug interactions, they are going to be rolling out a self-screening web app to see if they are appropriate for you. They are also going to have a self-assessment tool to see if you need it.
In Quebec, they found that two doses of mRNA vax is about 80% effective against needing emergency room visits.
The province has finally gotten a lot of rapid antigen tests. They have already started distributing them via schoolchildren; they will start distributing (free) via pharmacies soon. See more below.

Reminder: RATs are not a green light, they are a red light. If you have symptoms, they don't tell you that you are all clear to abandon all measures, they tell you if you absolutely need to isolate.
Reminder: RATs are designed for use by people with symptoms.

DrH says that the province has seen some BA.2. It is increasing, but slowly. They are also watching for Deltacron, but haven't seen any in BC. Note: I couldn't find much out about Deltacron, even looking very deliberately for it. It just doesn't seem to be very scary.
The province is going to expand wastewater surveillance and serosurveys.
Dix went through a slide deck on RAT distribution.
The province has received 22M tests, distributed 14M, which means there are 7M in inventory at the moment.
About 3M per week are expected in the next four weeks.
They distributed 4.85M last week.
They are going to start distributing to pharmacies soon, like at the end of this week.

It'll be risk based, so >70 year-olds and CEVs will get theirs first.
You'll need to show your BC Services Card.
They will be free.
They will be limited (at first) to one kit per person every 28-day period.
You can pick up for another person if you have their info and their BC Services Card.
Check here for a list of pharmacies which will have kits.
He then gave summaries of all the statistics he usually gives:
In the most recent week, there were about ~14K health care workers who called in sick. That's down a little from ~15K the week before. This is higher than in "normal" years, but it's lower than it had been.
They postponed 288 surgeries in the most recent reporting week, and more than 200 of them were in Interior Health.
Q&A
Reminder: I summarize in a very snarky way. It's almost guaranteed that they didn't say exactly what I say they said.
Q: How will pharmacies ensure that they right people are getting the tests? A: This was one of about four questions that the reporter asked. Dix and Henry didn't answer this specifically, but the answer is "you'll have to show your BC Services Card."
Q: Will people under 70 be turned away? A: Again, Dix and Henry didn't answer the question, but I assume the answer is "yes".
Q: How soon will the under-70s be eligible? A: No answer given.
Q: How do you ensure that it's only the symptomatic people who get the tests? A: Whoa whoa, we do not want symptomatic people going to the pharmacies to pick up tests! If you are over 70 or CEV, you should be going to a testing centre to get a PCR test! These tests are for people to keep at home for if/when they become symptomatic. The vulnerable can also use these tests to test the people around them, especially people who come into their home. And when we start to see sporadic illness (which hopefully won't be until next fall), RATs are a tool to help us manage that.
Q: Is there any update from last week on the Colleges disciplining doctors who spread misinformation? A: Uh, that's the College's process, I don't have any visibility into that. I did read in the news that they did discipline a doctor. (See the snippet at the top of this page.)
Q: Two firefighters presented fraudulent vax cards, what can the province do about this? A: We have ways of spotting fraudulent vax cards. We've seen about 1000 records. If needed, police will get involved. For those two specific firefighters, I can tell them we now have Novavax and they should call and book a Novavax shot!
Q: For the RATs distributed through schools, will the gargle test still be available? A: The gargle test was something developed for the PCR tests, and it will still be available for PCR tests.
Q: You've asked people to self-report results of RATs online, how's that going? A: It's a bit of a challenge. There are many limitations, which is why we are not reporting it, but the biggest is that we don't know the denominator: how many negative tests are out there? We are hoping to be able to use the data to spot geographical areas of high spread in the future. We've been talking to our colleagues in the UK, where they have had floods of RATs, for advice, but we're still figuring it out.
Q: Omicron came in fast and hard, and there are now a bunch of people who are having Long COVID symptoms at 2.5 months who can't get into the Long COVID clinics because you're got a 3 month requirement, can't you get them in faster? A: We have the three month requirement because a lot of people's symptoms resolve in three months, and three months is the standard definition of Long COVID. That doesn't mean you can't do anything before three months: talk to your physician, get plenty of sleep, get good nutrition, and light exercise. I know I sound like your mom here, but really, those are some of the best things you can do. Your physician can also call the physician's helpline to get some guidance if they need it.
Q: Re RATs and schools, I thought you said that kids were going to get five kits, and there's frustration around that. A: They get one box that has five tests in it.
Q: If schools are not infection vectors, why did you start passing the RATs out to kids? A: While schools are not amplifiers, kids at school can have COVID. The purpose is to help people manage at home, to help determine if kiddo should go to school the next day or not.
Q: Why are 7M tests sitting on the shelf? A: First, it's not 7M individual kits, divide by 5. They are not sitting on the shelf. We get kits in, we send them out. I get frustrated with reporters who don't realize that kits can't be deployed in zero time. Dix' slide deck said that they deployed 4.85M last week: even at that rate, the 7M "on the shelf" will be gone in less than two weeks.
Q: The case and hospitalization rates are declining more slowly in the Interior, why? A: Lower vax rates, and they have slightly more BA.2, which is not more severe but is more transmissible.
Q: Are Albertans bringing cases to the Interior? A: Lots of people move back and forth between BC and Alberta. To those coming from Albert, I ask you to remember that you need to follow BC rules when you are in BC.
Q: What are you doing to get the vax rate up in the Interior? A: All kinds of things. Hey! We have Novavax! Call to reserve your shot!
Q: What do people who now have Long COVID but couldn't get a PCR test do? A: We have blood tests to tell if you were infected.
Q: Does BC recognize Long COVID as a disability? A: That's not my department, that's a WorkSafeBC question, but it'll depend on the person and their job.
Q: How do you explain the low vax rate for 5-11 year-olds? A: It's been a problem for all the big provinces. (NL is doing amazing though!) We took a poll before we got the vax, and about 50% of the parents said they'd vax their kids right away, and another 30% wanted more data. One thing to realize is that for the adult vax, we got Health Canada approval quite a long time before we had enough vax for the general public, so people had quite a bit of time to do their sitting and thinking and deciding before they had to roll up their sleeves. For the kiddie vax, there was almost no delay between approval and wide availability, so parents didn't have so much time to ruminate on the decision. Dix: if you go from the age of 17 downwards, each cohort is vaxxed less than the cohort older than it, all the way down to age 5. Also note that while there is very little difference across health authorities for vax rate of the over-70s, there are big differences in vax rates for the kids across the province. So like in VCH it's over 70%.
Q: Is there anything that the province could have done differently to convince the parents? A: Hey, we tried and are trying a shitton of things. One of the things we heard from parents was that it was really important to have vaccinators who were used to kids and clinics which were kid-friendly, so we did that. We did a really good job at that. Note that this isn't a "BC problem", this is a challenge around the world, so we just keep trying to hit the three Cs: complacency, convenience, confidence.
Statistics
+799 cases, +1 death, +477 first doses, +1,945 second doses, +6,558 other doses.
Currently 653 in hospital / 108 in ICU.
| | | | |
| --- | --- | --- | --- |
| | first doses | second doses | third doses |
| of adults | 93.6% | 91.1% | 57.1% |
| of over-12s | 93.2% | 90.6% | 55.0% |
| of over-5s | 90.5% | 86.0% | * |
| of all BCians | 89.7% | 85.1% | 51.0% |
Charts
From this tweet: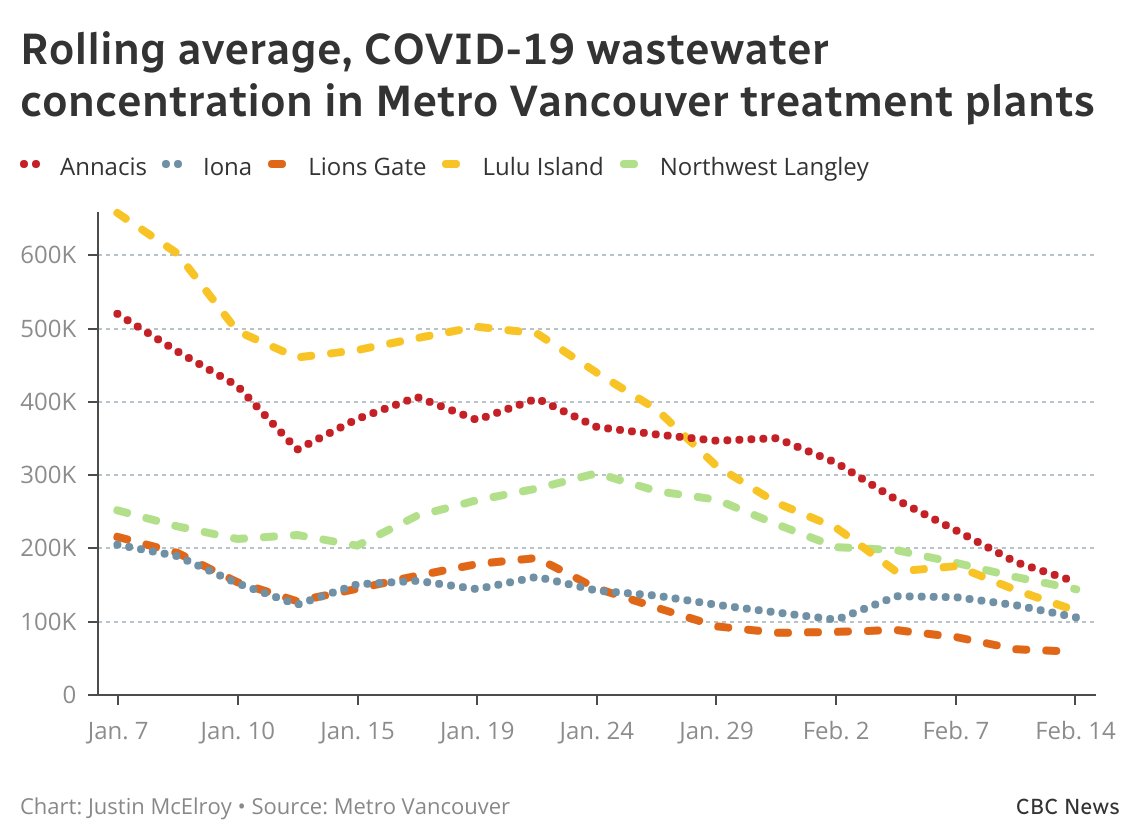 ---
From this tweet: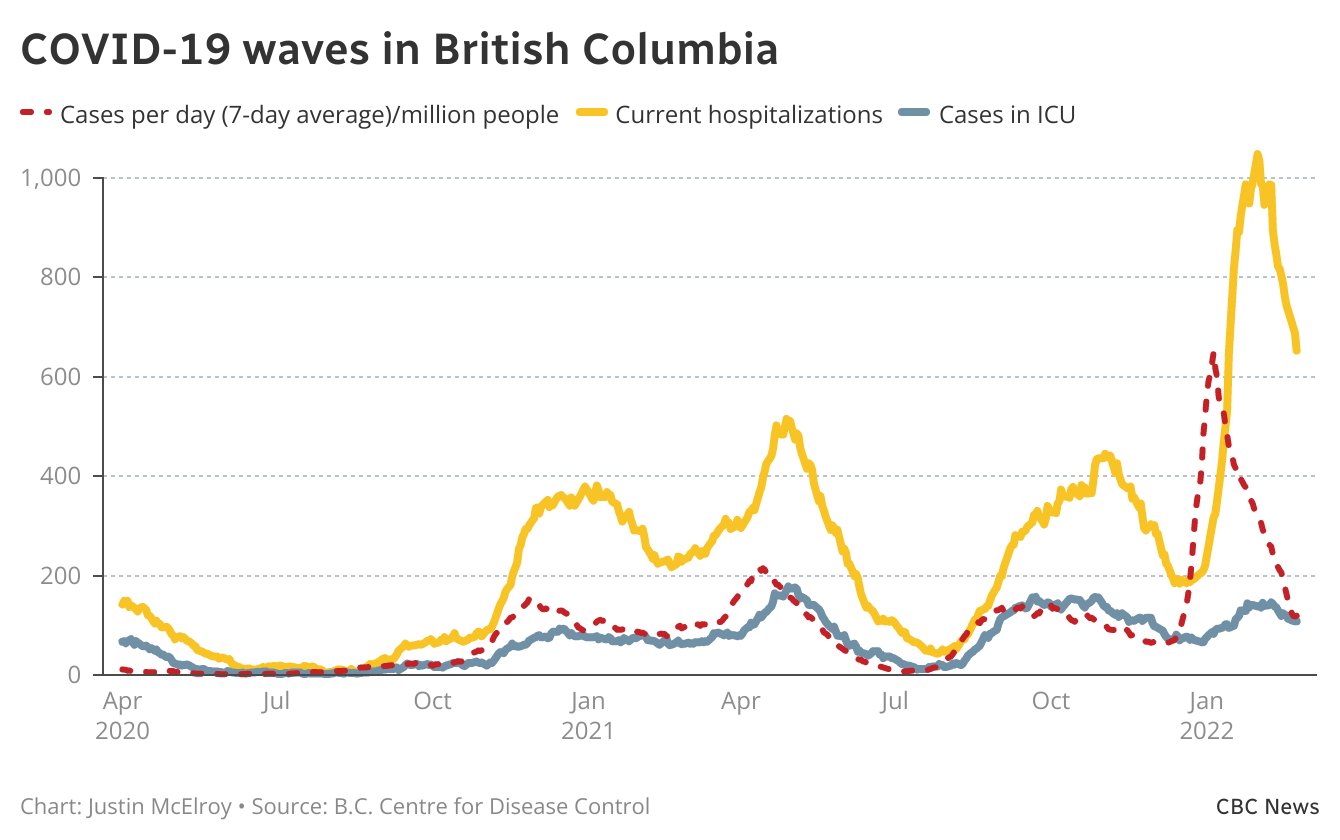 ---